The role of marketing simplified is to get and keep clients. We know that there are only three ways to grow any business - get new clients, get clients to spend more and more frequently. Yet most business owners only focus on the first pillar which we know costs six to seven times more than retaining good clients. Geometric growth can happen for your agency or business when you focus on all three at the same time.
Let's walk through strategies to keep clients even if times are tough. Before we go there, let's talk a little about client retention and what that ideally looks like for your agency or service-based business.
Five-Step Client Retention Strategy
Step one. Set Goals for your Client Retention
There are several ways to measure client retention, this is the place to start before you can set goals. And it's really important to work this out, it doesn't have to be perfect or to the decimal point. And you might need your accounting system for this exercise.
Pull a list of all the clients you served in a given period (the last 12 months for example). Now grab your favourite highlighter and identify the new clients you've onboarded. In another colour, you'll want to highlight the clients who are still active now.
Total number of clients at end of the period minus the number of new clients onboarded / total number of clients at the start of the period = retention %
If you had 50 clients at the start of the year, 40 clients at the end and you had acquired 10 new clients, your retention rate would be 60%.
It sounds a little complicated at first but working it out this way helps in an agency or service-based business where you might have project work to account for. Hey, it's not perfect but it's a model for you to get started with.
As an agency business, if you predominantly work on a project basis, you may have a higher churn rate and lose clients naturally when projects come to an end. If that's the case, you will have a lower retention rate.
There are hoards of benefits to having clients stay with you for the long haul. It's easier and cheaper than acquiring new clients, you can generate recurring revenue opportunities (if it's the right thing to do as you know my stance on selling retainers) and a happy client who stays with you is likely to be a good referrer too. We can't improve what we don't measure and we don't know if we're on track if we don't know where we're headed.
To make this really actionable for you, I want you to hit pause or schedule some time to work out your client retention rate and to set yourself some goals for client retention. You might look at how much of your revenue you want to come from repeat business and what type of clients do you want to keep doing business with and who are your aligned clients.

Step two. Analyse your client list
It sounds really horrible and impersonal to say that but it has to be done. You have your client list from the last 12 months, keep that to hand as you'll need it for this step. We're going to categorise your clients into four groups. Now you can adapt those categories to make them relevant but let me share with you what the quadrant looks like.
Think of your best client. When they call you answer, they treat you and your team like the creative partners you are to them, pay their invoices on time. There's trust, respect and you might even love each other. These are your aligned clients (the ones who you'd love to clone 10 times or 20 times over I bet).
Next think about your best buyers, these are your top spenders. If you won 2 or 3 more of these whale clients it'll be a total game changer for your agency. Similarly, if you landed several of these at one time you might not have the capacity to deliver as their projects tend to be so big!
I'm going a little around the houses here. But I feel it's a good a time as any to bring up Pareto's Principle, the 80-20 rule. Yeah, that thing. The Italian economist says that 80% of your revenue will be generated by 20% of your clients. Maybe 80% of your revenue is generated by 20% of the services you offer. It's important to connect your best clients to your top revenue streams. I'll come back to that later.
But the point I want to make about the 80-20 rule is that you'll also have your weakest clients, the squeaky wheels who need the most oil. And sure bad clients can become good clients but without a strategy. The squeaky wheels aren't profitable clients and you know where I'm going with this.
And you have clients who aren't bad but they are tough nuts. If I borrow the concept from the famous Boston Matrix that was developed in the late 60s to analyse market share and market growth, these are clients who have a little question mark over their account. They might not fit into your niche but they buy what you do. They might be operating in an industry that's in decline and you're not entirely sure where the growth potential and subsequently the revenue potential is for this client isn't so great.
The Boston Matrix is a good framework for looking at market share but I've created an adaption for you to look at your client list and categorise your clients accordingly.
This framework for analysing your clients is a powerhouse. It's going to help prioritise your client nurturing plan, identify where you can add value and look for referral opportunities. Which brings us to step three.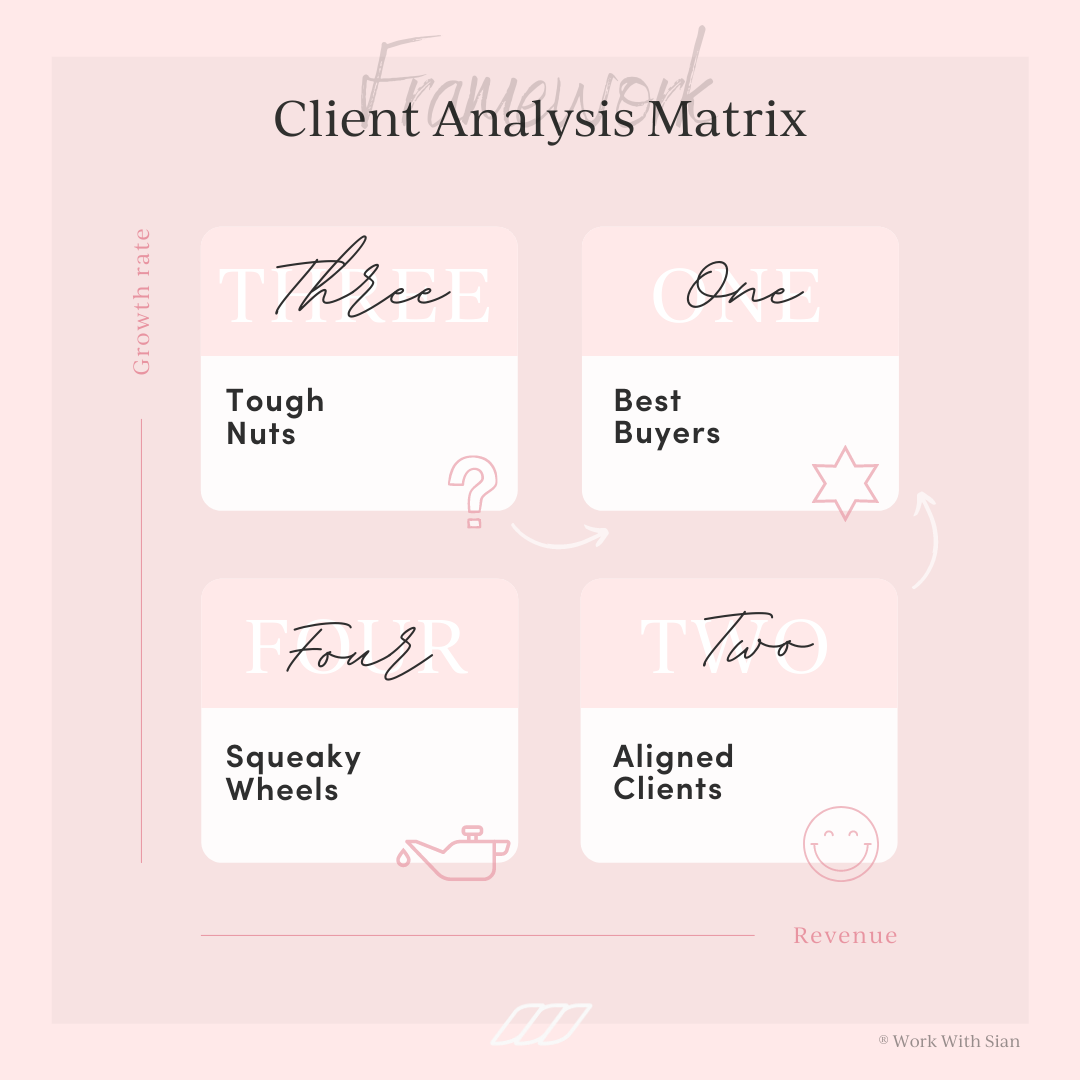 Step three. Audit
You want to invest your time, energy, resources and money where you have the capacity to add value to clients with the highest growth potential and align your best revenue streams with client needs creating more revenue potential. By using the framework, you've naturally created a prioritisation of number one best buyers, two aligned clients and then three, your tough nuts. Four, squeaky wheels (who you can retire or massively increase the prices for).
Looking at the clients you have listed on your quadrant in one, two (and three depending on your available time and resources), you want to do an audit. Obviously we're looking at who they are, you want to take a deeper dive and get to know their business, pains, needs and goals more.
Here are some questions to prompt you to take that deeper look in your audit.
Where are they in the life cycle of their business?

How is their industry doing as a whole?

Are there any current challenges they are facing and what's the impact?

What are their current needs?

What have they bought from you, how often, how frequently?

How would you rate the strength of your relationship?
You might want to do this with team members who work closely with the client and do a little market research on their industry. This will allow you to brainstorm ways you can potentially support and add value to these clients. That doesn't necessarily mean go straight in for a sale but it could be to strengthen your relationship. That's a good strategic objective. Client retention is a long-term strategy so don't think of this in terms of quick wins.
One of my happiest clients was looking for an introduction to a certain large corporate company. Really difficult to get into without an introduction, by making that happen for her with nothing else but good intention and wanting to add value, I've retained a very happy client.
Remember, selling is serving.
Step four. Proactive action plan
Even if your clients aren't reaching out to you or their project is completed, you and your team should be communicating proactively. Whether it's scheduling to get feedback and ask for testimonials or keeping lines of communication open to see how things are going. If you're in constant, consistent communication you'll naturally find opportunities to add more value and ultimately cross-sell and up-sell.
You don't need a fancy CRM, you can keep a calendar or a chart that tracks clients, dates of communication, notes and so on. You can create your own system in a Google sheet, Trello board, Airtable or Monday board. Whatever works for you and keep it simple.
To give you an idea of something proactive and easily actionable, one of my one to one clients who owns a PR agency set up a VIP email newsletter for clients. It's regular, provides high value information such as client success stories, advice and insights. After each email is sent out, the team follows up personally with clients who open and engage with the emails. That'll be through LinkedIn, personal video emails and inviting clients to Zoom lunches. The agency has since set up a client education program providing training on relevant topics and continuing to add massive value. The results have been astounding and their repeat business on the come up.
Step five. Client success
There are dozens and dozens of client retention programs that you can leverage. There's no shortage of ideas or information so I'm not going to go there for now (maybe I'll do another post on that). What I wanted to talk about which is step five of your client retention strategy to is to start mapping out, optimising, innovating and documenting your client journey.
I've had many clients go through this exercise and develop 'client success maps' which are impressive. Keeping a client is about building trust, delivering on expectations and creating an incredible experience from the get go. If everything is well thought out, deliberately designed and processed so it's scalable and repeatable you'll be onto a winner.
You have a proven process in your business, I know this because you've already had some success at doing what you're doing. Is that proven process written down, documented, shared so everyone in your team knows what's involved at each stage? If not, you're going to start creating your proven process or client success map.
This is a really fun exercise to do with your team, a few flip charts and some sharpie pens! Starting by identifying each touchpoint with a client from your initial discovery call to onboarding to delivering your services, go live and handoff. You will want to think about your clients from the matrix, maybe your best buyers and your aligned clients have slightly different onboarding depending on the value of their spend. At each stage you want to brainstorm what your clients thoughts and feelings are and ask if you're delivering on your brand values at each stage, at each touchpoint.
I did this exercise with a client whose niche was the aviation industry, it was intensive and we used some role play with team members pretending to be the client. Not only did we find 12 months' worth of content marketing ideas but we found several opportunities to up-sell and cross-sell leading to a $750k uplift in revenue. Just in case you thought you'd skip this step and gloss over it, what could this be worth to your business?
Do the work, it's worth it. Once you have your proven process it becomes an incredible sales tool as well. When you show clients what to expect and remove uncertainty you'll find your conversion rates and retention rates will skyrocket.
If I can help you take a deeper dive into client retention and help you create a world-class success map that explodes your competitive advantage, DM me on social media the word GROWTH or email me hello@workwithsian.co.uk
Recap on our five-step client retention strategy
I want to break this down so it's really tangible and actionable for you.
Pull your client list, workout your current client retention rate and set goals.

Analyse your client list categorising your clients using the framework.

Audit your clients and take a deeper look to find opportunities for adding value.

Create a proactive action plan and design your own communication plan.

Systematise your client success map so that you can make client retention a core growth strategy in your business now and beyond.